How we design, produce, sell and market products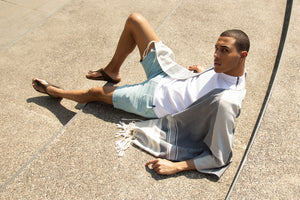 How we educate consumers to use our products
what is possible through recycling or re-use
Our journey through a more socio-ecological path.
In RCANO we decided to take our first steps towards a more sustainable future by developing and launching our newest line of casual-wear named RCANO ESSENTIALS. 
ONE STEP AT A TIME
ESSENTIALS LINE
With our new Essentials Line we have taken an initiative that aims to offer a wide selection of clothing that are made ethically and responsibly, with a careful selection of materials of low environmental impact, while working with certified factories.
OUR MATERIALS
Environmentally Low Impact Fabrics
We use several fabrics that have a low water, energy and chemicals usage. Such fabrics are either made from recycled fibers produced with waste material, plant-based, with low environmental impact or animal-based fabrics produced in a sustainable way.
Recycled Cotton
In RCANO Essentials we use recycled cotton from pre-consumer waste that comes from leftovers of cotton production and post-consumer waste that comes from discarded used garments. 
100% Upcycled Blend
We offer a new generation of recycled fabrics with a high performance blend of upcycled cotton and post-consumer PET bottles. Giving a second life to a material that's not biodegradable and would otherwise end up in landfill or the ocean.
Natural Fibers
We currently work with various natural fibers such as cotton, linen, bamboo, wool, cashmere and silk. These fibers contribute to higher quality, comfortable fit and durability; not forgetting they are a renewable resource, recyclable, compostable, and 100% biodegradable.
Handcrafted Textiles
Our handmade pieces are created by Mexican Artisans in a fair and ethical way using traditional techniques and natural fibers. These one-of-a-kind pieces have a direct connection between the artisan and the garment that no machine can reproduce.
Learn what your clothes are made of
Essentials Tag
You will find this tag in the clothes from our Essentials Line, which will indicate which material has been used for such garment.
certification
EFS - Ethical Fashion Space
We have been working closely with EFS and it has been a very interesting and exciting learning process, there is still a lot to learn and implement but we are committed to take action and promote environmentally responsible initiatives for the foreseeable future.
"Committed to choosing the most sustainable path forward."