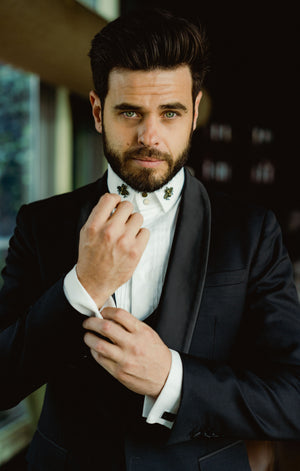 Luxury made to your measure
Welcome to RCANO Tailor Made
Our exclusive and personalized experience dedicated to delivering artisanal excellence and sartorial refinement.
We create unique pieces designed to fit each client requirements, where every element is executed to perfection ensuring an impeccable silhouette with the utmost precision and attention to detail.
Our goal is to create an experience that leaves a lasting impression and instills confidence in the client's choice of investing in a tailor-made piece. Step into RCANO's Tailor Made world where craftsmanship, creativity, and personalization merge seamlessly, resulting in a garment that is truly tailored to you.
Experience
Bespoke
We achieve the perfect fit by creating a one-of-a-kind pattern from zero, adapted to each client's body measurements.
Every piece is thoughtfully hand-crafted using a selection of the finest and most exclusive fabrics, from the timeless elegance of Barrington to the opulence of Loro Piana.
Experience
Made-to-measure
We start with a ready-made fit pattern as the foundation for the garment, and we meticulously alter it according to each client's body measurements to ensure an impeccable fit.
To fully customize the pieces our clients can choose from an extensive selection of high-quality fabrics including light cashmere, silks, fine wool, all available in a vast selection of colors and patterns.
Schedule your Appointment
The RCANO Tailor Made experience begins with an initial appointment with our designer Rafael Cano.
You can request your appointment via Whatsapp or through our dedicated appointment request system in our website.
During this first meeting, we set aside approximately 60 minutes of dedicated time to gain valuable insights of your unique style, preferences, and specific requirements for your tailor-made garments.
Start Designing
During this personalized meeting our designer will expertly guide you through every facet of the garment's creation.
You'll be precisely measured to ensure a perfect fit, and from there, you'll embark on a fascinating journey to customize every detail of your suit.
From the style you desire, to selecting the finest elements of your garment's architecture: the fabric and lining that resonate with your taste, the lapel size that complements your style, the perfect buttons that accentuate the overall look and even the color of the stitching to add a personal touch.
Throughout this step, our designer will be by your side, providing expert advice to design a garment that reflects your vision and style while showcasing elegance and refinement.
Fitting & Delivery
The creation of the suit takes a period of 5 to 6 weeks, after which we arrange a fitting appointment to ensure that the tailored suit fits impeccably.
If there are any alterations required we will address them with precision, and once we have confirmed that every aspect of the suit has been executed to perfection and the client is delighted with the result, we'll arrange a delivery appointment.
This marks the end of our craftsmanship and dedication process to achieving sartorial excellence.